I'll make it quick: These 2 books are going to be bestsellers and a must for everyone who's interested in stopping or reversing chronic symptoms, healthy living and longevity. They are written by 2 of my favorite authors and I'am extremely thankful for their support over the last years (speaking at the Lifestyle Medicine Summit and as guest speakers at Lifestyle Prescriptions University).
---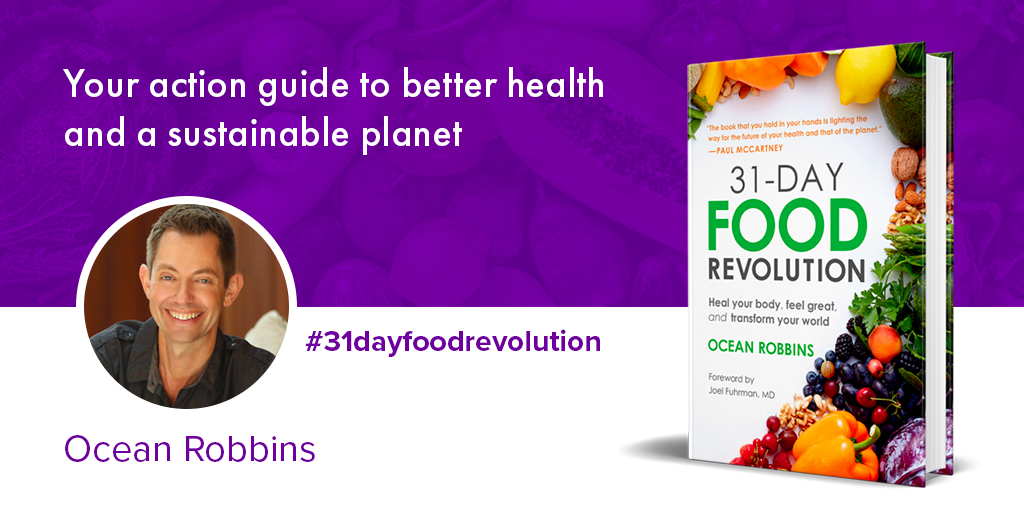 Order the book here (and get amazing bonuses)
Read a chapter 10: "Is Breakfast Sabotaging Your Day?", plus eight delicious and nutritious breakfast recipes for FREE.
You may have heard the buzz about Ocean Robbins' fabulous new book, 31-Day Food Revolution. We're celebrating the release of this brilliant bestseller a bit early with Ocean by giving you an opportunity to start reading it right now. One chapter in the book is dedicated to simple and healthy breakfast ideas. For many people, this first meal of the day is the least healthy one. But in this chapter, you'll get useful ideas and nourishing recipes (including his personal favorites) to help you start your day off right. Click here to see the powerful trailer now.
Ocean is offering an amazing collection of high-valued bonus resources, worth more than $100, with every pre-order.
---
NEW BOOK: UNDO IT.

The new Book from Dean and Anne Ornish on how to stop and reverse chronic disease.
Dean Ornish, M.D. has directed revolutionary research proving, for the first time, that lifestyle changes can often reverse-undo-the progression of many of the most common and costly chronic diseases and even begin reversing aging at a cellular level.
Medicare and many insurance companies are now covering Dr. Ornish's lifestyle medicine program for reversing chronic disease because it consistently achieves bigger changes in lifestyle, better clinical outcomes, larger cost savings, and greater adherence than have ever been reported—based on 40 years of research published in the leading peer-reviewed medical and scientific journals.
Now, in this landmark book, he and Anne Ornish present a simple yet powerful new unifying theory explaining why these same lifestyle changes can reverse so many different chronic diseases and how quickly these benefits occur.
---
The New Lifestyle Prescriptions Book
And just in case you haven't read my last book "The 6-Root-Cause(s) Of All Symptoms yet then you can get it for a limited time for FREE.
Download your copy of the book here.
By Yuan Fisslinger PhD(C)